Jewish Palermo
A half day tour
The oldest documentation of the existance of a Jewish quarter is contained in a report by the merchant-travelers Ibn Hawqal who arrived in Palermo from Baghdad in 972 during the Arabic domination of Sicily. Benjamin of Tudela who visited the island in 1170, reports having found 200 jews in Messina and1500 in Palermo. By the time of 1266 King Charles of Anjou encouraged merchants and bankers from abroad to come to Sicily as a way to raise revenue.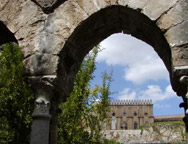 Our tour starts in the historical centre of the city, walking through the narrow streets of the Jewish quarter and its fascinating remains. We will visit to the site of the Synagogue and with the help of some descriptions made by Jewish mediaeval travellers, we will discover the biggest Jewish community of the capital city.
Later, we walk to the Duomo and the imposing building of the Norman Palace for a deeper understanding of the social intercourse between Jews, religious power and political power.
The tour ends in the splendid Norman royal palace of the Zisa, built in Norman Arab style, that still keeps a Hebrew inscription and a Jewish candle-holder
Tour type: private tour from Palermo/Cefalù/ Trapani hotel
Chauffer- driven. On demand we can provide English speaking driver/ guide and/or licensed tour guide.
Time duration: 7 hours
Driving time: from Cefalù/ Trapani one hour
Meeting place: your selected hotel or accommodation
Tour cost: depends on the services requested(driver, English speaking driver, licensed tour guide, driver/guide). Please email us for a quote