Jewish Siracusa
See Siracusa through Jewish eyes
Living in Sicily until the Spanish decree of banishment, dated March 31, 1492 reached the island, the Sicilian Jewish community was one of the most important in the Mediterranean area and was well integrated within the local component. In no other place did the Jews of the Middle Ages enjoy such freedom and independence as in Sicily. The Jews of Syracuse were very affluent and were obliged to contribute an ounce of gold daily toward the expenses of the royal table. Many of them owned luxurious homes. Their professions ranged from doctors and tradesmen to cloth merchants and goldsmiths.
---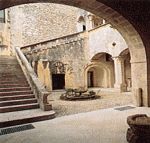 The tour starts in Acradina, the site of the earliest Jewish settlement. We will visit the catacombs of S. Giovanni and the crypt of S. Marciano, who, according to the legend, was killed by the Jews of the city. Then, we'll move to the island of Ortigia and walk in the narrow streets of the Giudecca (the ancient Jewish quarter). See the site of the Synagogue and the Miqwè- Jewish ritual bath, 11 metres below ground level, the most archaic that has ever been found in all Europe.
The tour ends in the Bellomo Gallery, where some of the tombstones from the Jewish medieval cemetery are displayed..
Tour type: private tour from Siracusa/Taormina/ Catania/ Messina hotel.
Chauffer- driven. On demand we can provide English speaking driver/ guide and/or licensed tour guide.
Time duration: 7 hours
Driving time: from Giardini Naxos 1 hour 15 minutes, from Catania 50 minutes
Meeting place: your selected hotel in Taormina/Catania/ Messina
Tour cost: depends on the services requested(driver, English speaking driver, licensed tour guide, driver/guide). Please email us for a quote