Godfather shooting locations tour
Savoca was chosen by Francis F.Coppola to stand in for the less photogenic Corleone When Michael and his two companions are walking in the hills, they see this picturesque village in the distance. Enjoy its peaceful atmosphere and the stunning views over the sea from the piazza.
---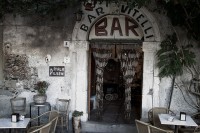 Savoca which is considered to be one of the most attractive places in the environs of Taormina. Bar Vitelli with a gorgeous terrace, has a collection of photographs taken when Francis Ford Coppola shot some scenes of "The Godfather II". The table where Micheal Corleone sat to ask the padrone for the hand of his delightful daughter Apollonia is still there. After Michael's wedding, they walk down from the church to this Bar on the piazza for the reception. Free time for a "granita" in the Bar Vitelli then we walk to the Chiesa Madre with its fine 16C portal surmonted by a beautifully carved oculus and the coat of arms of Savoca, bearing the eldeberry branch from which the name of the town is supposed to derive. Optional lunch in a winery.
The tour will continue to Forza d'Agrò an attractive medieval hamlet caps the furthermost spurs of the Monti Peloritani with a splendid view of the coast. In 1990, Al Pacino and Sophia Coppola shot some scenes of the film "The Godfather III".
Tour type: private wine day tour from your Taormina/ Catania/ Messina hotel or your accommodation.
Chauffer- driven. On demand we can provide English speaking driver/ guide and/or licensed tour guide
Departure time: on demand
Meeting place for travellers: your selected hotel in Taormina/Catania/ Messina
Tour cost: depends on the services requested(driver, English speaking driver, licensed tour guide, driver/guide). Please email us for a quote