Mt Etna tour
Explore the highest and most active volcano in Europe and get to the summit by cablecar and jeep!
Mt. Etna is the highest volcano in Europe (currently 3,329 metres -10,922 ft) and the most prominent landmark of Sicily. Its smoking peak can be seen from most of Sicily and is constantly reshaped by seismic activity.The ascent of Etna is the highlight of a visit to Sicily, not only for the volcanic phenomena but also for the superb views
A different tour of Mt Etna (testimonial)
I had asked for a tour a bit different than the average one that usually takes you to where the cable cars are and then you're on your own. Michele hired our guide Flavia, who lived in a village right on Mt. Etna. She took us hiking up to the crater where we were able to watch the lava flow right into it! It was an awesome experience.I was a bit leary about volunteering to organize this trip for our group because you never know how everyone will like the tour and how it will turn out. But EVERYONE loved it and kept thanking me all cruise long. Thank you so much for putting together this tour for us! Flavia was fantastic and the village we stopped in for lunch was the talk of the group! We absolutely loved every minute of it and can't thank you enough! I will be sure to recommend your company to everyone.
---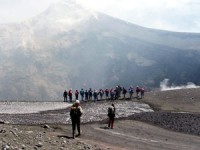 Etna Sud road through a continuously changing landscape of trees, lava flows and endemic plants. Sit back and relax while you hear your guide talking about the "Mountain"- as local people call Mt Etna-, its flora, geology and eruptions. Passing through the charming little villages of Santa Venerina and Zafferana Etnea we reach Rifugio Sapienza. Upon arrival we will visit the area of Crateri Silvestri (about 2,00 mtrs or 6.000 ft) and see the effects of recent eruptions.
Time at leisure. From Rifugio Sapienza you can join an organized excursion (over two hours) to the top. You first take a cable car ride (€23.00) for a further 500 meters. Here you can admire superb views of Catania and and the sea, walk to the Piccolo Rifugio or have a snack or a drink at the café. The more adventurous can further take a 4X4 drive (€20.00) to reach the summit at 2,900 meters where Alpine guides escort people on foot to interesting areas
Tour type: private wine day tour from your Taormina/ Catania/ Messina hotel or your accommodation.
Chauffer- driven. On demand we can provide English speaking driver/ guide and/or licensed tour guide
Departure time: on demand
Meeting place for travellers: your selected hotel in Taormina/Catania/ Messina
Tour cost: depends on the services requested(driver, English speaking driver, licensed tour guide, driver/guide). Please email us for a quote