Classic Siracusa
A day tour to Siracusa. See the Greek/Roman ruins and Orthygia
Siracusa, a World Heritage Site, was the second Greek colony to have been founded in Sicily in the second half of the 8th century B.C. In its hey- day, Siracusa rivaled Athens in size, importance and prestige before falling to the Romans in 212 AD. Described by Cicero as 'the greatest Greek city and the most beautiful of all', the city of Archimedes boasts one of the largest concentration of Greek ruins outside of Greece. Ortigia's historic centre bear witness to the troubled history of Sicily, from the Byzantines to the Bourbons, interspersed with the Arabs, the Normans, Hohenstaufen dynasty, the Aragons and the Kingdom of the Two Sicilies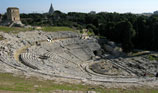 The day begins at the archeological park of the Neapolis where we can see the monolithic Greek Theatre (its cavea is one of the largest ever built by the ancient Greeks and still in use today for classical represantations), the sacrificial Altar of Hieron II, the Ear of Dionisyus (an artificail limestone quarry named by the painter Caravaggio) and
the Roman Amphitheatre. We will then continue on to the island of Ortygia to see the temple of Apollo, the oldest Doric style temple built in Sicily, the Cathedral which is one of the most extraordinary buildings in the world due to the different architectual styles overlapping one another. The tour ends at the fresh water spring of Aretusa where the papyrus still grows abundantly.
Tour type: private tour from Siracusa/Taormina/ Catania/ Messina hotel.
Chauffer- driven. On demand we can provide English speaking driver/ guide and/or licensed tour guide.
Time duration: 7 hours
Driving time: from Giardini Naxos 1 hour 15 minutes, from Catania 50 minutes
Meeting place: your selected hotel in Taormina/Catania/ Messina
Tour cost: depends on the services requested(driver, English speaking driver, licensed tour guide, driver/guide). Please email us for a quote