Cefalu'- A medieval jewel
Day tour from Palermo or Messina
A place of passionate myths, linked to Daphnis, Hercules and Diana, the town stands by the sea dominated by a promontory called "La Rocca" which was considered sacred during ancient times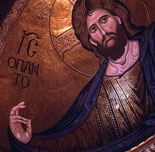 We will drive to Cefalù, a medieval town founded by the Norman King Roger II during the twelfth century, on the site of an earlier settlement. It was splendid under the Normans, while Frederick II called it urbs placentissima. During our walk through town, we will visit the Norman Cathedral with its glittering Byzantine mosaics, which include the over-powering figure of the Pantokrator. Then on to the Medieval Washhouse and to the old port for a view on Cefalù's defence walls and gates. A visit of the Mandralisca Museum will allow you to see the painting of the Unknown Man, a masterpiece by Antonello da Messina, and one of the few which are housed in the fifteenth century Sicilian painter's homeland. Free time to roam around the town's lovely shops and for lunch.
Tour type: private tour from Palermo or Messina
Chauffer- driven. On demand we can provide English speaking driver/ guide and/or licensed tour guide.
Time duration: 7 hours
Driving time: from Palermo one hour. From Messina over two hours
Meeting place: your selected hotel or accommodation
Tour cost: depends on the services requested(driver, English speaking driver, licensed tour guide, driver/guide). Please email us for a quote