The Inspector Montalbano tour
Interviews and reviews
Talking with the author Andrea Camilleri about the Montalbano tour
Inspector Montalbano shooting locations tour
Inspector Montalbano literary tour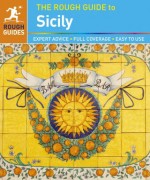 Keen Montalbano fans are unlikely to regret splashing out on a guided tour of the sites with Michele Gallo (T 360 397930 w sicilytourguides.net); group prices start at €150 for a half day tour Sicily Rough Guide 2014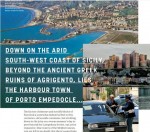 Michele Gallo, of Sicily TravelNet tours (sicilytraveltours.com), one of several companies offering Montalbano-themed tours, has been a guide for nearly 30 years and knows all there is to know about Camilleri and his books. "I have to keep well informed, because my clients are so knowledgeable," he says, as we stroll along the seafront at Porto Empedocle. "Tours of Agrigento's unique Valley of the Temples are still the most popular here," he adds, "but Montalbano tours come a close second and they're gaining in popularity."
The tour takes visitors to see locations featured in the Montalbano novels, such as the police station and the Arab quarter of Rabato in Agrigento (Montelusa in the books), built with the area's deep-yellow stone, as well as the house of another local literary hero and distant relative of Camilleri, Luigi Pirandello. Not far from Porto Empedocle is Scala dei Turchi, the white cliff shaped like steps sloping into the sea, where Camilleri has fond memories of afternoons on the beach and, nearer town, 'Marinella', the small, isolated house on the sandy beach where Salvo Montalbano lives, and takes his morning swims and afternoon siestas.
Easyjet Inflight Magazine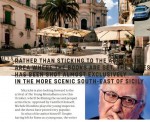 Visitors to the region may even notice a few familiar faces, as locals are often employed as extras. Luca Licitra, tour guide and colleague of Michele Gallo at Sicily TravelNet tours, can point out set locations, often with behind-the-scenes anecdotes, as he's appeared in a few episodes.
"As a relative of mafia boss Don Balduccio, I was shot in Excursion to Tindari; and I played the fisherman who discovers a corpse in The Wings of the Sphinx that was filmed at Marzamemi," he says, naming a paradisical fishing village shown. "There was a great atmosphere on set, particularly during the first series," he recalls. Easyjet Inflight Magazine

Michele Gallo, a guide at Sicily TravelNet, said he had seen a notable increase in British tourists coming on his Montalbano-themed tour, one of several operating on the island. Their arrival, he said, was of great benefit to local businesses. But he bemoaned the popularity of the TV locations as opposed to Camilleri's literary landscape. "It's a shame that few come to see the places in the novels, which are not the places in the TV show," he said. "The 'real' Montalbano is that of the novels."
The Guardian: An inspector calls: British tourists go on trail of Montalbano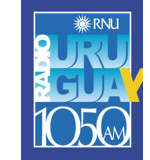 Radio Uruguay 1050AM

Efecto Mariposa: La paciencia de la araña de Andrea Calilleri

Después, el programa dialogó con Michele Gallo, guía Turístico de Sicily Travel, para conocer Sicilia y los lugares ficticios en donde se desarrolla la obra.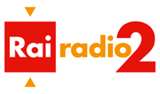 Italian national radio: interview on the Montalbano tour (in Italian)